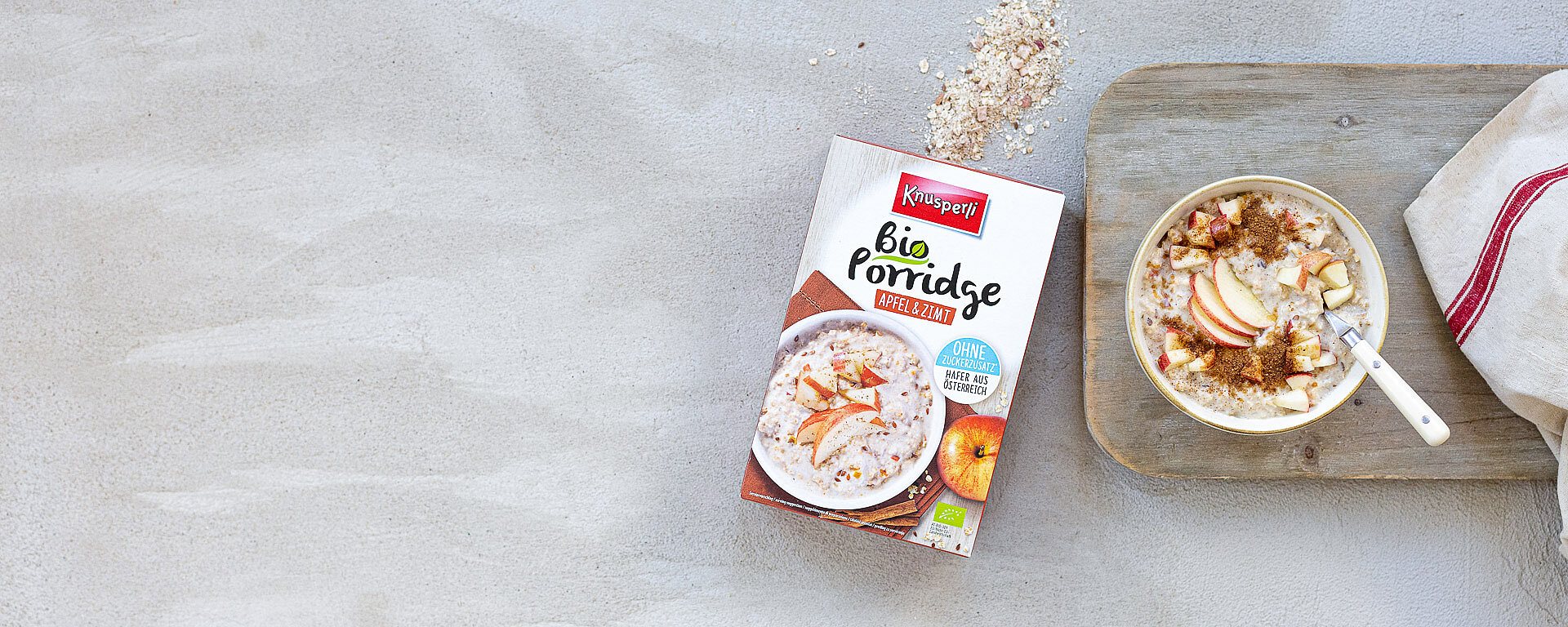 Organic Porridge
with oats from Austria!
Our wholesome feel-good breakfast!
for a comforting and warm morning
Take a slow start into the day with a warm, creamy porridge. Doesn't that sound wonderful?
That's exactly the breakfast moment with the new Knusperli Organic Porridge!
The unique composition of small tender oat flakes, oat bran & oat pulp in combination with high-quality linseed & fruits ensures the best mouthfeel and an incomparably good taste - and that all in organic quality.
Premium organic ingredients, no flavor enhancers, colourings, preservatives or thickeners and guaranteed NO added sugar - this is how the best of nature turns into a delicious porridge in just three minutes. And the fantastic thing about it: the organic oats come from Austria!
Knusperli Organic Porridge is perfect for health-conscious foodies, families, athletes and all those who want to do something good for themselves. We recommend Knusperli Organic Porridge as a warm start to the day and as a delicious little snack for in between. Always the right choice and a real treat!
Our Knusperli Organic Porridge is uniquely good!
Natural taste experience in best organic quality.
Best organic oats from Austria.
Unique combination of local tender oat flakes, oat bran and oat pulp.
Contains natural sweetness from fruits.
Guaranteed without added sugar*.
No added flavor enhancers, preservatives & colorings.
Without added flavoring substances.
Vegan - awarded with the Vegan V-Label
Made with love in Steyr, Upper Austria.
Knusperli Organic Porridge is available in two popular & delicious flavors: Berries and Apple & Cinnamon.
Porridge - the warm muesli treat!
Porridge, also known traditionally as oatmeal, is usually served warm. Porridge is growing in popularity because the warm cereal mash is particularly gentle to the stomach and keeps the body satiated for a long time without a feeling of fullness.
Our Knusperli Organic Porridge is the ideal warm breakfast and provides young and old with power and pleasure for the day. All ingredients boast of excellent natural qualities and have been carefully selected by us. What's more, our heart-warming oatmeal is not only delicious, but also a source of fibre and quick to prepare. See for yourself and try the unique taste and delight!