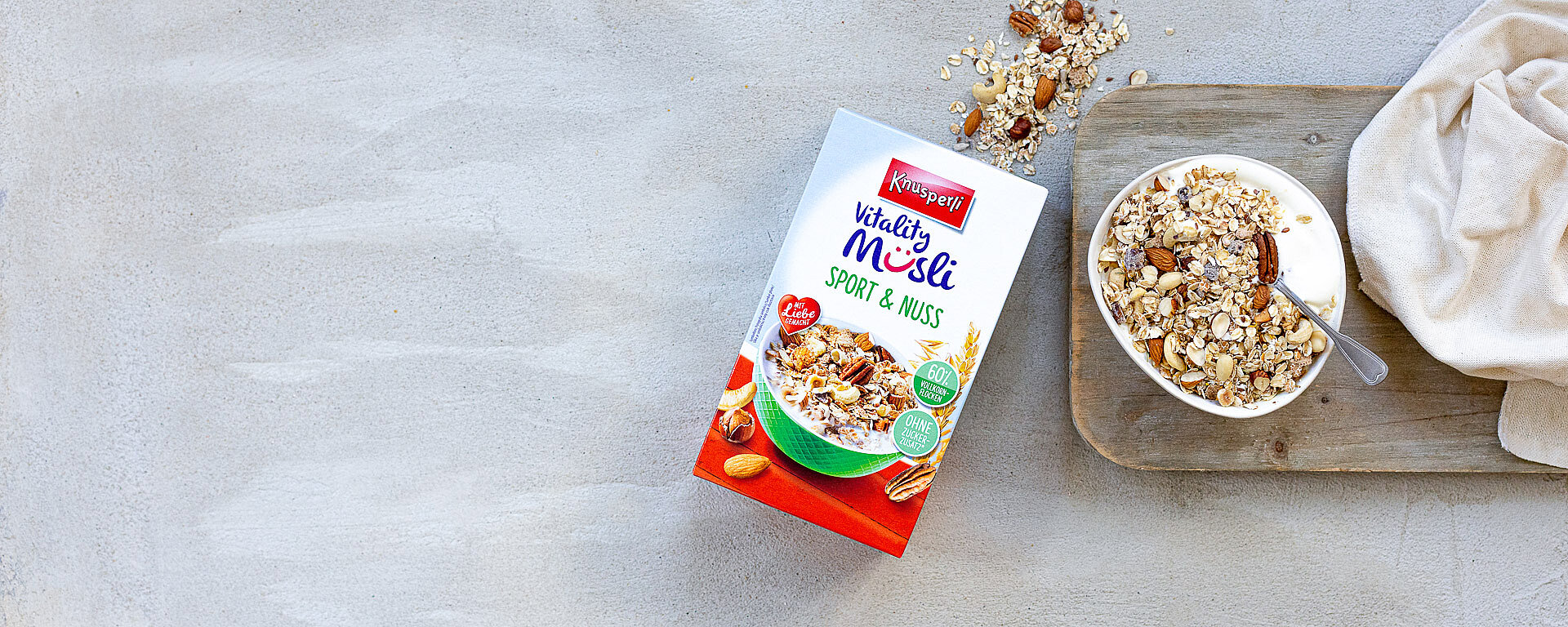 Vitality Muesli
Light and fluffy, high quality!
So much goodness
in the best muesli!
Our Knusperli Vitality Mueslis are full of good ingredients for your well-being and a vital start into the day! Each ingredient has been carefully selected and blended to create the perfect flavor.
Our muesli mixes are made of delicious wholemeal flakes and high-quality, freeze-dried fruits or the best nuts and seeds. And all that without any added sugar*!
Our Vitality Berry Fruits gets its sweetness from sultanas. For those who are not sultana fans, we recommend Vitality Sport & Nut, which gets its light sweetness from dried date pieces.
Our Vitality Mueslis are
without added flavor enhancers, preservatives & colorings
made with love in Steyr, Upper Austria.
Our tip: Enjoy our high-quality Vitality Mueslis not only for breakfast, but at any time of the day. The ultimate experience is available in two unique, delicious flavors.
Flake muesli and muesli - that' s all the same thing.
That's true. The term "flake muesli" refers to the classic muesli, which is usually simply referred to as such. Muesli has its origins in Switzerland. The term "muesli" can be traced back to the word "mush", because a muesli is basically a mush made of flakes, fruit and milk. The best thing about it: there are countless variations and possible combinations!
The cereal base of a muesli is often composed of oat flakes, sometimes supplemented by other cereals such as corn flakes. Dried fruit, nuts, seeds and spices provide for a variety of flavors. It depends on your individual preferences whether you eat the muesli with milk, yoghurt, a milk alternative or even fruit juice.
If you are looking for ready-made muesli which is absolutely perfect, you will love Vitality Muesli Berry Fruits and Sport & Nut.