About Knusperli
The early bird has muesli in its mouth
The Austrian muesli specialist Knusperli
spoils you with daily indulgence.
Do something good for yourself and enjoy your Knusperli muesli.
Which crunchy type are you? Are you a 7-day breakfast person, a weekend breakfast connoisseur or do you love a crunchy snack for in between meals? Our wide range of products offers the right taste experience for every occasion!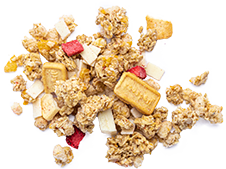 should be naturally
well balanced
taste good
really crunchy
and fun!
With these preferences, Knusperli is the right choice for you! Knusperli provides you with plenty of energy, no matter what the day has in store for you.
Let us surprise you again and again: Our muesli range is so varied that your muesli experience will never get boring.