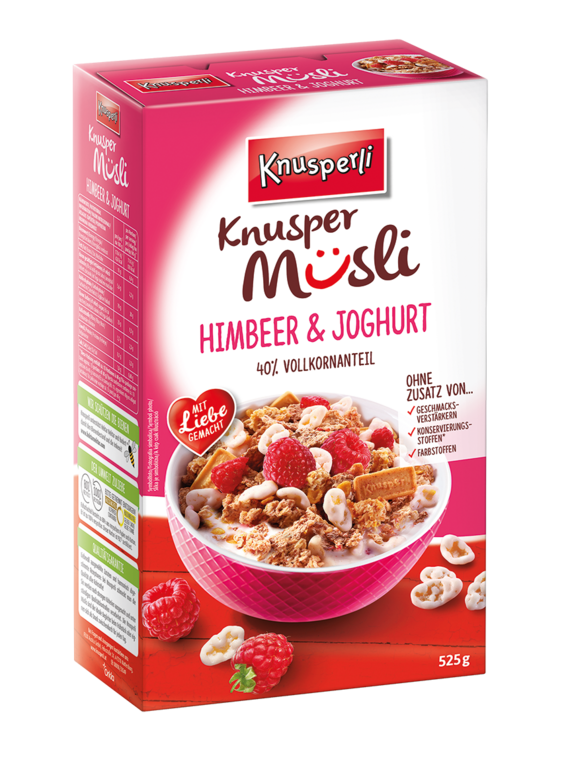 Crunchy Muesli Raspberry & Yoghurt
Heavenly fruity pleasure!
Crunchy Raspberry & Yoghurt is a heavenly, fruity, sour treat that will put a smile on your face in the morning! The combination of crunchy muesli, fruity sour raspberries, yoghurt flakes and crunchy biscuits makes the hearts of all muesli lovers beat faster. A highlight of every breakfast table.
Knusperli crunchy muesli Raspberry & Yoghurt is free from flavor enhancers, preservatives and colorings and is available in a 525g package.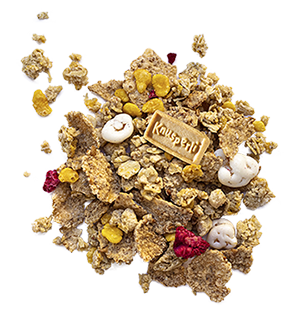 Ingredients
wholegrain oat flakes (30%), sugar, maize, wholegrain wheat (10%), rice, palm oil, rice flour, vegetable fats and oils (palm, palm kernel, sunflower, shea, rapeseed) in varying proportions, wheat flour, pieces of freeze-dried raspberries, apple juice concentrate, barley malt extract, salt, coconut flakes, honey, whey powder, yoghurt powder (0,2%), wheat gluten, emulsifiers: lecithins (soy); flavouring, malted barley- and wheat flour, glucose syrup, coating agent: gum arabic, whole milk powder, caramel syrup.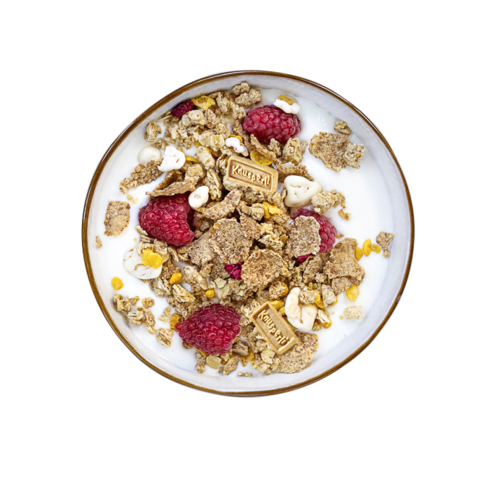 Nutritional Values
per 100 g
| | |
| --- | --- |
| energy (kJ) | 1784 |
| kcal | 424 |
| fat | 11 g |
| of which saturates | 5,6 g |
| carbohydrate | 70 g |
| of which sugars | 23 g |
| fibre | 5,7 g |
| protein | 8,1 g |
| salt | 1,0 g |